Berman & Wright's core disciplines provide a wide range of professional architectural & engineering design services including project feasibility and needs analysis, schematic and design development, construction documentation, and contract administration. We offer solid experience in the methods of new construction and appropriate techniques for the reuse and rehabilitation of existing buildings to incorporate new systems and technology.  This includes AutoCAD documentation and 3D BIM visualization to deliver the most accurate representation and long-term value to clients.
Our building experience includes public, educational, and corporate facilities; residential design from single-family homes to large-scale multi-family housing; retail and mixed-use facilities; health care and interior architecture; and building adaptive reuse and façade rehabilitation.
Evaluation of existing facilities, materials, and systems
Review of applicable building codes and standards
Schematic design and design development
Development of construction drawings and specifications
Peer review of construction documents by others
Owners, Associations, Contractors, Insurers
Residential, commercial, institutional, and industrial
Temporary, emergency, and permanent design solutions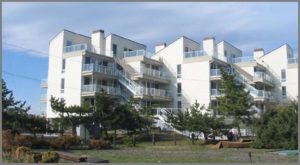 Sea Dunes Condominium a 24 unit luxury condominium at the north of Long Branch , NJ included architectural and structural renovation, facade replacement, and new contemporary windows and doors. Copper roofing, cement fiber siding, and novel tilt-turn, rotate and pivot windows were used. Decks were rebuilt and covered with easily maintained pedestrian toppings, and all exterior access stairs were replaced with new powder-coated aluminum and glass. / Zemsky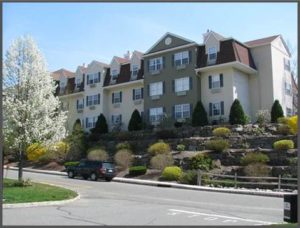 Bald Eagle Commons is a seven building senior's residence with original cladding in a mix of brick, vinyl siding, and synthetic stucco. Berman & Wright discovered extensive water damage, architectural, structural, and interior deterioration, insect infestation and mold, caused by poor cladding and roofing. The facades of all buildings were renovated to repair damages, improve performance, update appearance, and maintain a healthy lifestyle for the senior residents.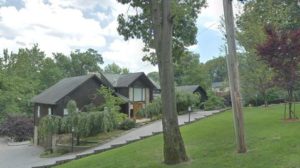 Custom four-bedroom, single-family residence located in the Todt Hill section of Staten Island. Designed and constructed as a pair of "father and son" homes, one contemporary, one traditional. The residence included multiple open levels, clerestory glazing, and unique
circulation to suit the steeply sloping site.


The Temple Shalom project provided a large chapel and eight classrooms, designed to complement the existing, larger facility for this established and growing congregation. The chapel was clad in a corbelled red-brown brick, angular metal roofs with a central skylight, large exposed wood beams spanning the entire interior space from each brick interior wall. Stained glass windows at the north and east surrounding the Ark. / Techtonic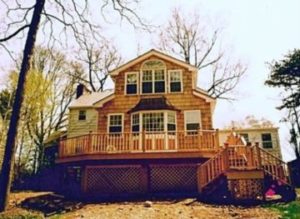 Summit Custom Addition – This 925 square foot interior, cedar-clad addition includes a large, light-filled 575 square foot Family Room, opening to a wrap-around elevated deck and amenities on the ground floor, and a 350 square foot shared home office on the upper level, containing operable roof windows and a large Palladian style center window.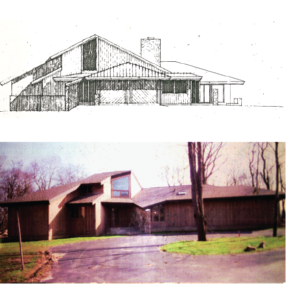 This unique contemporary three bedroom custom residence is designed almost exclusively as a ranch style building with all functions in the extended first-floor layout. It varies only by a circular stair leading to a Loft / Music Room overlooking the Family and Living Rooms below. The home was constructed with vertical cedar siding and a large overhanging roof; and includes an over-sized deck with swimming pool and whirlpool. / NYDG
---