Bellaire Condominiums in Review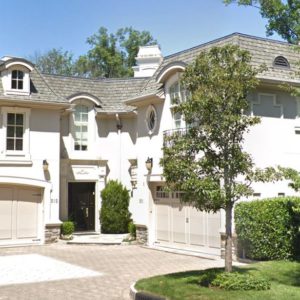 Berman & Wright Architecture, Engineering & Planning was contacted to investigate the conditions present at the Bellaire Condominiums in Demarest, NJ. The condominiums at Bellaire Drive were built in 2005, consisting of 34 luxury townhomes in a total of eight buildings.
Each townhome has three floors: two above grade and a basement. The buildings consist of wood framed structures supported on concrete foundations. The cladding components of the building façades consist of a 3-coat stucco, Tex-U-Flex or equal, applied over wire mesh on Tyvek building wrap, rigid foam insulation with synthetic stucco finish (EIFS) as trim bands, and, around building windows and doors, adhered masonry veneer (MSV) over the concrete foundation walls and precast concrete entry surrounds.
The roofs are constructed with an architectural standing seam metal roof (SSMR) system and a shingle roof system. The roofs are a hipped mansard configuration and are pitched with three different slopes. The center of the roofs' uppermost slopes are pitched to the perimeter at an approximately 1" per foot pitch. This section has a SSMR system installed, which transitions to a 3" per foot shingle roof, which in turn transitions to a 22" per foot shingle mansard roof. The mansard roof terminates just below the ceiling of the second floor, in unvented soffits.
Berman & Wright was commissioned on March 8, 2017, to document examples of the existing condition of the roofs and attics at Bellaire. The investigations were performed simultaneously to a community-wide roof removal and replacement. In part, the purpose of these investigations was to provide an assessment of tertiary recommendations to replace all building roofs in their entirety. The intent of the investigation was to:
Identify and document construction deficiencies of metal and shingle roofs and appurtenances;
Identify the cause of the construction deficiencies, and, to the extent known, the parties responsible;
Identify consequential damages caused by construction deficiencies;
Identify the extent of areas in need of repair or replacement;
Analyze remediation documents provided (by others) and determine the feasibility of their implementation;
Analyze the decision (by others) to replace the entire roof system, rather than attempt remediation, as a significant number of leaks have been discovered.
Berman & Wright developed a report which introduces the project and provides a compilation of the documentation of conditions, conclusions reached, and the recommendations for corrective actions necessary to address building design as well as construction deficiencies and the assignment of liability to responsible parties. The professional services of Berman & Wright, as utilized in mediation, yielded the evidence necessary for a substantial settlement in favor of our client.
---