Installation Standards for Adhered Manufactured Stone Masonry Veneer ("AMSMV")
By Ronald A. Mueller, CSI, CCS, CCCA
April 7, 2015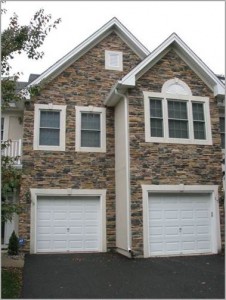 Adhered Manufactured Stone Masonry Veneer ("AMSMV") is a cementitious cladding material manufactured to look like natural stone masonry that has been available since the late 1960s or early 1970s. Despite its popularity for use on residential, retail, hospitality, and other buildings for nearly 50 years, a standard regarding installation requirements was not developed until recently. Additionally, the building codes do not provide clear definition of the material or the minimum installation requirements. This paper discusses some of the key installation requirements established by ASTM International's C1780 Standard Practice for Installation Methods for Adhered Manufactured Stone Masonry Veneer and the model codes published by the International Code Council.
---
AMSMV, or "imitation stone", provides a lightweight substitute for natural stone. Manufactured from cementitious pastes and aggregates, and cast in molds similar to the process of precast concrete, the final product, when installed on a wall, simulates the appearance of natural stone masonry. Natural stone may be installed as load bearing, anchored, or adhered veneer, whereas AMSMV can be applied only as an adhered veneer installed over a variety of substrates including concrete, masonry, stucco, and rigid wood or gypsum sheathing over wood or steel stud framed walls. AMSMV is adhered with mortar to a backing material in much the same way as tile is installed, although certain applications require an intermediate backing of lath reinforcement and basecoat similar to that of Portland cement stucco.
Since its inception, Architects, Engineers, Contractors, and the public have referred to and specified AMSMV by a variety of generic names, descriptive acronyms, and some popular proprietary trade names such as "Cultured Stone". Manufactured stone veneer ("MSV") may be the most common name; however, other names have included faux stone, simulated stone, and manufactured stone, Adhered Concrete Masonry Veneer ("ACMV"), Adhered Manufactured Stone Veneer ("AMSV"), and Adhered Stone Masonry Veneer ("ASMV"). The current acronym being promulgated, and reaching consensus for use by ASTM, is AMSMV
The lack of a distinct and consistent naming and the similarity to other materials has led to confusion and disagreement among those who interpret building code requirements applicable to AMSMV. Given the prevalent use, the public may be surprised to learn that unlike other common cladding materials such as vinyl siding, AMSMV is not specifically described in the building codes, and there was never clear specification of the requirements for the components that comprise a typical assembly.
In the mid- to late-2000s, several manufacturers of AMSMV joined together to found the Masonry Veneer Manufacturer's Association ("MVMA"). In 2009, MVMA published their first guidelines for the installation of Adhered Concrete Masonry Veneer. This publication provided a unified method for installation of the components necessary for application of AMSMV over a range of wall systems and substrates. Through reference to other industry standards, it established requirements for critical components including the use of a weather resistive barrier ("WRB"), lath, fastening, and scratch coat. Some of the key requirements included a requirement for 2 layers of WRB and self-furring lath where AMSMV is installed over wood or steel stud wall systems.
Berman & Wright has long held the position that when AMSMV is installed on a backing consisting of a scratch coat and lath, such as for wood or steel stud wall systems, the backing is essentially the same as that for lath and basecoat required for Portland cement plaster wall coverings. Beginning in 2009, the MVMA guidelines mirrored this position by reference to ASTM C1063 Standard Specification for Installation of Lathing and Furring to Receive Interior and Exterior Portland Cement Based Plaster. Subsequently, in 2013, ASTM International established the ASTM C1780 standard which further confirmed this position.
Some key installation requirements for AMSMV installed over wall sheathing that have been clarified in ASTM C1780 include the use of:
Two layers of Weather Resistant Barrier
Lath and Weep screed to be installed in accordance with ASTM C1063 with specific mention of furring required to allow for embedment of lath in scratch coat
Scratch coat to fully encapsulate lath
The requirements described in ASTM C1780 establish the best practices for installation of AMSMV including all its associated system components to overcome common installation deficiencies known to allow significant water infiltration and damages in buildings.
In many locations throughout the United States, AMSMV cladding installed prior to 2009 was applied over a single layer of WRB and with non-furred expanded metal lath. Despite evidence of severe water damage to wood sheathing and framing behind these installations; contractors, manufacturers, and other professionals often stated that two layers of WRB and furred lath were not specifically required by the code. Research and testing of stucco and AMSMV installations that incorporate lath and a plaster basecoat proved the need for a capillary break between the plaster and WRB to promote drainage. The research and testing confirmed the necessity of fully encapsulated lath within the plaster to reduce cracking and delamination.
The MVMA proactively supported the efforts of ASTM and updated their guidelines soon after the publication of ASTM C1780. Subsequently, MVMA retitled their guideline publication to Installation Guide and Detailing Options for Compliance with ASTM C1780 for Adhered Manufactured Stone Veneer. It is evident that there is progress in reaching a consensus regarding installation requirements; however disparity in terminology for use of AMSMV remains. To date, the International Building Code ("IBC") has not included direct code language and references to AMSMV. Time will tell how long it takes the IBC to join the consensus among manufacturer's, installers, and design professionals to specifically adopt the installation standards published by ASTM and supported by the MVMA.
References:
"Cultured Stone" is a registered trademark of Cultured Stone – a Division of Boral
Nordmeyer, Herb. 2012. Installation guidelines for adhered concrete masonry veneer. The Construction Specifier,
Diqui, Jeff. 2013. Ensuring moisture protection for manufactured stone. The Construction Specifier,
Masonry Veneer Manufacturers Association. 2009. Installation Guidelines for Adhered Concrete Masonry Veneer. [March 9]
Masonry Veneer Manufacturers Association. 2015. Installation Guide and Detailing Options for Compliance with ASTM C1780: for Adhered Manufactured Stone Veneer. 4th 2nd printing [January 19]
ASTM International. 2013 and 2014. ASTM Standard C1780, Standard Practice for Adhered Manufactured Stone Masonry Veneer.
ASTM International. 1998. ASTM Standard C1063, Standard Specification for Installation of Lathing and Furring to Receive Interior and Exterior Portland Cement-Based Plaster.
---